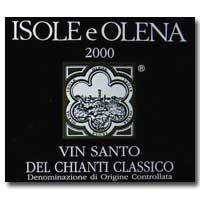 Isole e Olena Vin Santo is one of the greatest example of this wine produced today. A Tuscan custom for many centuries. Paolo actually doesn't take credit for the wine making, Vin Santo make's itself he says.

The production of real Vin Santo is a painstaking and costly procedure. Individual bunches of grapes are hand selected prior to the general harvest. Each bunch must be loosely formed and be of excellent quality in order to avoid the formation of mold during the long drying process. The bunches are hung to dry either on wooden poles or reed trays locally known as "cannicci". They are stored in a dry, well ventilated spot until the sugar level of the grapes reaches a minimum of 35°Brix. This generally occurs in January at which time the dried grapes are pressed. The must, which is almost as thick as honey, is placed in oak and chestnut barrels of varying size. The barrels are filled 3⁄4 full and are then sealed with wax. A small deposit of Vin Santo, affectionately called "mother", which remains from previous vintages triggers the beginning of fermentation. The barrels are left unopened for 6 years preferably in attic rooms where the room temperature is allowed to follow the cycle of the seasons. The summer heat favors fermentation while the winter cold slows the fermentation and allows the Vin Santo to naturally clarify itself.
The yield of wine from the grapes is exceptionally low due to the drying process and the long fermentation period. A commom yield can be as low as 25 liters from 100 kilos of grapes as compared to 70 liters for a normal still wine.

Paolo then takes the collection of barrels and begins the blending process, barrel variation is tremendous, some are completely oxidized, some are as fresh as if they were made yesterday. Paolo starts with the best barrels and ends up with a truly magical wine, a primitive wine that is clean and at the same time balanced between oxidation and freshness. Shows great complexity.